Welcome to the Media Pages of Award-Winning Michigan Author R.L. Herron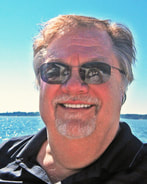 Bloggers & Journalists:
You'll find detailed information here about
each of Ron's books
, prepared author bios
(of various lengths)
and a few fun facts. You'll also find a sample interview and
a link to high-resolution pictures. Please feel free to use all or part of this information in your communications.
Ron also has a blog called Painting With Light, where he writes about the world of indie publishing. He'd love to have you join the thousands of others who follow him there and on The Twitter.

He's also on The Book of Face, Goodreads, LinkedIn, Google+, Pinterest, Booklife & AuthorsdB, although he probably doesn't use any of them the way he should. His main web site is at Broken Glass.
If you have questions, want to arrange an interview, or just chat, contact the author.
---
---